Goli Ashwagandha 60 caps
Goli is happy to offer the first Ashwagandha gummy that is vegan, gelatin-free and gluten-free.
An ancient medicinal herb that has been used for centuries for its many benefits.
Ashwagandha, being classified as an adaptogen can help the body in managing stress and anxiety.
Additionally, it can boost brain function, lower blood sugar and cortisol levels, and help fight symptoms of anxiety and depression.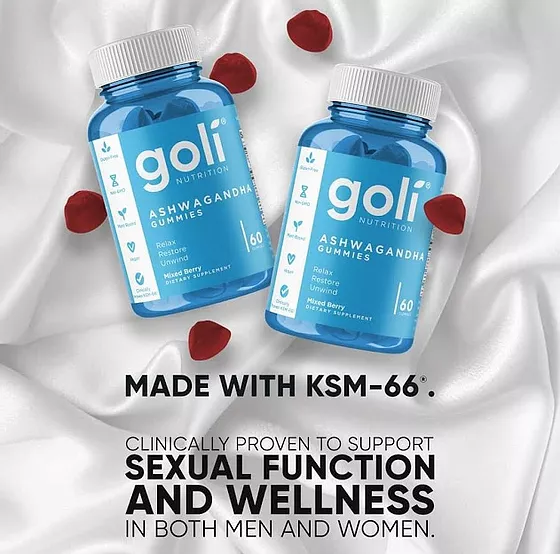 Promotes Calmness and REDUCES STRESS
For thousands of years, Ashwagandha's adaptogenic properties have been used to help relieve stress and aid relaxation. Modern studies suggest that Ashwagandha helps reduce the level of the 'stress hormone', cortisol, in our body to encourage a feeling of calm in those who suffer from chronic stress.
Supports Muscle Strength and POST-EXERCISE RECOVERY Research has shown that Ashwagandha may improve muscle growth and strength as well as aid post-workout recovery. In a randomized and controlled trial, Ashwagandha supplementation was associated with significant increases in muscle mass and strength.
Promotes a HEALTHY MOOD Ashwagandha's proven ability to easy stress might improve your mood too. A randomized, double-blind study suggested that full-spectrum Ashwagandha extract effectively improves one's resistance to stress and thereby their overall outlook on life.
Supports a HEALTHY HEART There's evidence to suggest that Ashwagandha may help improve heart health by reducing cholesterol and triglyceride levels.
Supports a HEALTHY SLEEP Ashwagandha has been used as a sleep aid in traditional Indian medicine for thousands of years and modern research suggests it could improve your sleep. In a study on patients with insomnia and anxiety, it was found that Ashwagandha extract improved sleep quality and sleep onset latency.
Helps Endurance and PHYSICAL PERFORMANCE As well as muscle strength, research suggests that Ashwagandha could improve athletic performance and endurance. A 2015 study showed that Ashwagandha extract enhanced the cardiorespiratory endurance of 50 healthy athletic adults.
Supports a HEALTHY WEIGHT Evidence suggest that Ashwagandha's adaptogenic properties could reduce overeating and weight gain in times of stress.
Supports IMMUNE HEALTH Ashwagandha could help improve the body's defense against disease by encouraging the cell-mediated immunity.
Enhances Memory & COGNITION KSM-66® has shown to improve memory and cognitive functions, attention, and information-processing speed in healthy individuals.
Improves SEXUAL FUNCTION Clinical studies made for KSM-66® has presented evidence that the super herbs support sexual function and wellness in both men and women.
Goli Ashwa Ingredients Goli Ashwa's ingredients are simple and transparent. Ashwa contains the two main ingredients of 150mg of KSM-66 Ashwagandha Root Extract and 12.5 mcg vitamin D2.